Looking for the best reference loudspeakers systems? E-mail us or call us today that we have them starting from $3000 to over $1 million. We even have exclusive custom made to order ultra high performance music systems starting $30,000 and up to 3 million. We are experts with over 25 years of experience selling and setting up the best loudspeaker systems available in the world. Contact Larry D. Diaz at High-End Palace 786 388-8050
NEW! Raidho Acoustics
TD-6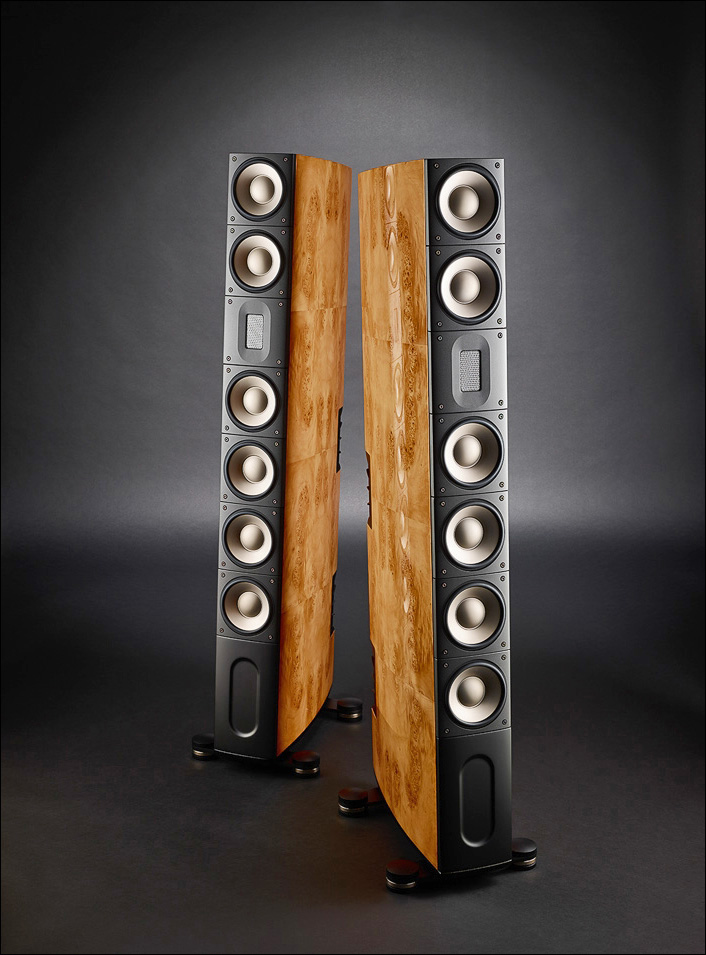 NEW! Raidho Acoustics TD-4.8
The latest full-range flagship Raidho TD6 sounds as striking as it looks. Astonishing scale, drama, weight and impact, but above all, absolute coherence musical performance

. Also the new Raidho Acoustics TD-4.8, and they performed as good as they look! Now made for 2022 with internal wiring using Valhalla 2 or NORDOST ODIN 2 as an option.

I heard and saw these beauties for the first time in Munich at

the High-End Audio show

and I was blown away with their performance and elegance.

Raidho is now one of the absolute best loudspeakers you can get in high-end audio.

For details please contact me

Larry D. Diaz at High-End Palace 786 388-8050

.

This is the most advanced and latest work from Raidho, they feature Tantalum-Diamond (TD) cone: Even though our Diamond cone drivers, are already groundbreaking in their technology and performance, we still don't stop there - improving our technology is simply a part of the Raidho DNA. With the new Tantalum technology, we have managed to better our already class leading diamond cones.

By adding Tantalum to our ceramic cones, before the diamond layer, we have created a 5 layer sandwich cone, which is even stiffer than our already extremely stiff diamond cones, while at the same time adding huge amounts of inner damping. This means that these cones move completely like a piston without any break-up nodes way above the human hearing limit. (Actually even higher than most high quality tweeters) What we gain from this is lower levels of distortion than any other drive unit on the market, lightning fast transient response, matching our world-famous ribbon tweeters perfectly. The extremely low levels of distortion, also ensures a very musical and organic reproduction – bringing you closer to the music than you thought possible. Website: http://raidho.dk/

Warm regards my audiophile friends,

President (CEO)

High-End Palace, LLC

The place for the world's best music systems!

TEL: 786 388-8050
Contact High-End Palace for Raidho Acoustics!
NEW! 2022 SCANSONIC MB-5B in Walnut
NEW! 2022 SCANSONIC MB-1B in Walnut
From left to right! The SCANSONIC MB-6B,

MB-1B monitors,

MB-2.5B,

MB-3.5B and

MB-5B.

Available in all black, and black & white, and

Walnut finish.
SCANSONIC RIBBON LOUDSPEAKERS
Scansonic has done the impossible by designing loudspeakers that provides top tear sound quality in an affordable price range for most music lovers and audiophiles.

Scansonic is

the new more affordable sister brand of their flagship brand

Raidho Acoustics above

using the same DNA

. The

Raidho Acoustics

magical speakers starts from $25,000 to over $260,000 for their top model. They

use a similar design of ribbon tweeters for

Scansonic at a small fraction of the price compare to

Raidho

.

Scansonic

brings true high-end sound at a price point that was not possible in high-end before

. For details and questions please call us!

Let us help you select the right model for your room, the MB-1B monitors, the MB-2.5B, MB-3.5B, MB-5B or MB-6B. Link to the website: SCANSONIC.



Contact High-End Palace for Scansonic B Loudspeakers!
Must see and hear videos of the
Scansonic MB-5B,
Scansonic MB-3.5 and
Scansonic MB-6
B L O C K A U D I O
Shelf Block Ultimate Compact Monitor
High-End Palace presents the world-class Block Audio Shelf Block Ultimate Monitors available in Piano black Lacquer or NEXTEL Suede Coating. During our trip to High-End 2018 in Munich, Germany I was introduced to Block Audio. I was blown away by their quality and craftsmanship.

The

Shelf Block

2-way

Ultimate Monitors

features a 6" inch woofer and a 28 mm, 1 ⅛ inch tweeter customized drivers with an optimized with a 40 mm thick aluminum front baffle, special internal wires (silver solid core in Dupont teflon), Furutech binding post and weighs 29 kg / 64lbs each, 80 kg / 176 lbs a set.

Contact me Larry D. Diaz at High-End Palace 786 388-8050 for our Special Promotion of these audio art pieces. As the one and only dealer we will ship and install Block Audio components anywhere in USA, Canada and South America. I promise you the best experience and sound you have ever heard in your system. We are even willing to take your trade-in. Live a little! Link to Blockaudio website: www.blockaudio.com/line-power-block-se/
Warm regards my audiophile friends,
President (CEO)
High-End Palace, LLC
The place for the world's best music systems!
Tel: 786 388-8050
Contact us for Block Audio US, Canada & South America Special Promotion.
It's time for something spectacular!
DEMO AVAILABLE! - TRADE-INS WELCOME!
NEW! EgglestonWorks Viginti "Limited Edition"
Here is

the latest and best work from EgglestonWorks

featuring

Beryllium dome tweeters,

four 6" carbon cone dome midrange and

four 10" carbon cone subwoofers

.

See the latest

STEREOPHILE

October 2018 issue.

The Viginti is a

STEREOPHILE CLASS A Full Range Recommended Loudspeakers (Vol.41 No.6).

In a small workshop in Memphis, TN, a group of music-loving craftsmen introduced the world to EgglestonWorks Loudspeakers with the roaring debut of the ANDRA. At the time, the company was an unknown, but all that would change very quickly. It would take less than a year for the Andra to appear on the cover of Stereophile Magazine – not once, but twice in 3 months – earning that publication's "Speaker of the Year" award. Praise for the Andra came from audiophiles and audio professionals alike. The great mastering engineer, Bob Ludwig, was an early adopter picking up 5 pieces of Andra's to outfit his DVD mastering setup. Ludwig chose the Andra for their clarity and truthful character coupled with a non-fatiguing sound that made hours of work seem like minutes.

During its lifespan, the Andra has seen two major design updates as well as numerous small detail improvements. Both the Andra II and III versions have faithfully upheld the high sonic standard set by the original, while at the same time improving upon the overall nature of the product. With such a storied past, how do you properly celebrate 20 years of audio excellence and longevity? We, at EgglestonWorks, felt that such an important milestone deserved to be honored by a completely new product born of the Andra tradition. Offered as a Limited Edition, the Viginti was developed to pay homage to the Andra and build upon its legacy.

Viginti, Latin for "twenty", is the embodiment of evolution and inspiration. Featuring a dual bass section of 10" woofers and unique slot porting system, there is no lack of deep, tight bass. The familiar looking 6" drivers give the Viginti that mid-range clarity for which Andra has always been known. The Andra Viginti Ltd Edition, 20th Anniversary speaker took several years to careful development to achieve. Spending a little time with the Viginti will illuminate why this special product is worthy of the Andra legacy.

Specifications

Tweeter: 1" Beryllium dome
Midrange: 2 – 6" carbon cone dome
Bass: 2 – 10" carbon cone subwoofers
Efficiency: 87dB
Impedance: 6 Ohms,3.5 Ohm minimum at 29Hz
Usable output extends from 20Hz to 40kHz
Footprint: 14" x 23" x 50" H
Weight: 255lbs.
NEW! The stunning EgglestonWorks Camilla featuring a 9" woofer and a 1" dome tweeter. Call us pricing!
The EgglestonWorks Fontaine Signature
EgglestonWorks MODEL 9 Signature. Call us pricing!
The EgglestonWorks Fontaine. Call us pricing!
EgglestonWorks SAVOY Signature & ANDRA III's Signature bellow.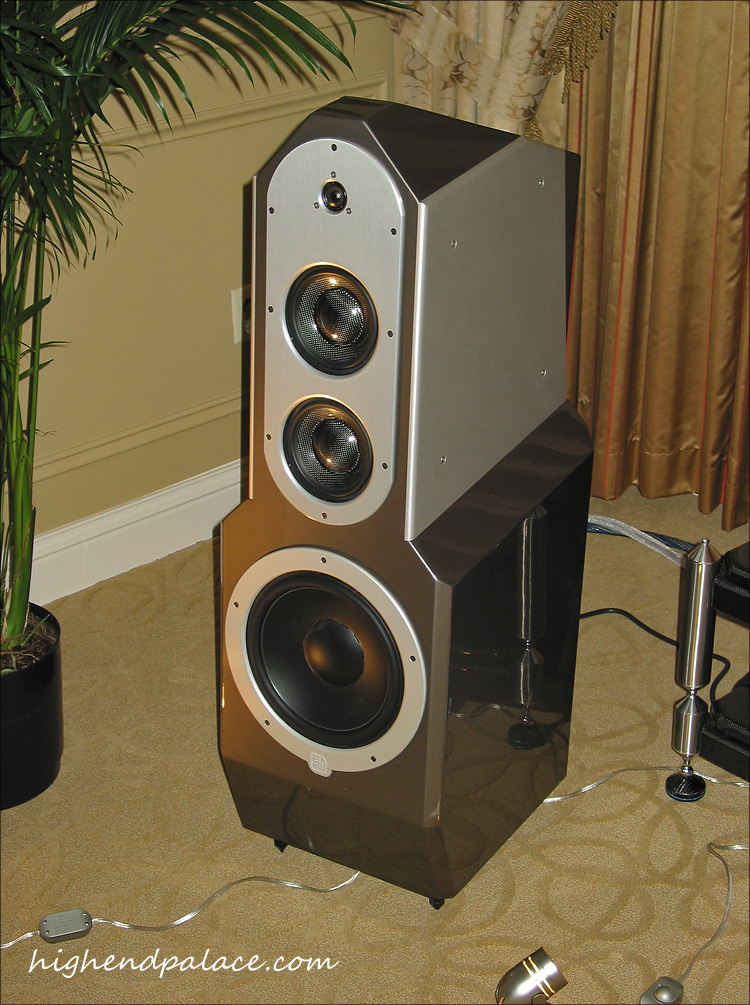 HD PHOTOGRAPHY WORK BY LARRY D. DIAZ FOR HIGH-END PALACE
EGGLESTON WORKS
The newest loudspeaker from EgglestonWorks, the Nine Signature. The Nine Signature occupies a special place among other EgglestonWorks speakers. The original Nine was named Product of the Year in two different publications. Its price point, size and performance added up to what is considered a complete speaker.

With great consideration, the Nine Signature seeks to improve upon an already great speaker. To accomplish this goal, the EgglestonWorks design team opted for an overhaul of the original Nine in many ways, but still maintained the essence of what made it such a great speaker. That essence was and is the speaker's ability to convey the emotion of music.

The Nine Signature features new midrange drivers, bass drivers, crossover networks, cabinet modifications, and cosmetics. Cabinet modifications include one major change in that the midrange section is now sealed to improve efficiency and pinpoint accurate bass response.

The combination of re-evaluation and re-invention once again has proven to be a successful method for loudspeaker design. In the Nine Signature, inspiration may have come from many sources but the goal was singular: to continue our tradition of quality products.

SPECIFICATIONS
Tweeter: Single – 1" dome
Midrange: Dual – 6" carbon fiber cone
Bass: Single – 8" carbon fiber cone
Frequency Response: -3dB @25Hz – 24,000Hz
Efficiency: 88dB
Impedance: 8 Ohms nominal, 5 Ohms minimum
Footprint: 11" x 16" x 44" H
Weight: 150lbs.
The Eggleston Savoy: Signature. What is a Signature Series? Traditionally, a Signature model features the personal stamp of approval of its designer. In the case of the award-winning EgglestonWorks loudspeakers, we prefer to think of a broader meaning. And so, "Signature" is about attaching a single person's name to a product, and more about sonics and the signature EgglestonWorks has put upon the world of audio in general.

With that in mind, we present the Savoy Signature Series as the latest evidence of the non-conformist design principles we champion above all else.

The Savoy Signature has won many awards since its introduction. Further to this several mastering studios throughout the world use the speaker. Specifically, Wisseloord Studios in the Netherlands uses two – 5 piece systems in separate mastering studios for stereo and multichannel mastering.

Our design philosophy has always highlighted two main areas as the most important for any loudspeaker: accuracy and musicality. We feel the Savoy Signature exemplifies this better than any other product in its class.

SPECIFICATIONS
Tweeter: Single – 1" dome
Midrange: Dual – 6" carbon fiber cone
Mid Bass: Dual 6" carbon fiber cones in isobaric loading configuration
Bass: Stacked Dual (4) – 12" poly cones in isobaric loading configuration
Frequency Response: -3dB @18Hz – 24,000Hz
Efficiency: 87dB
Impedance: 8 Ohms nominal, 5.4 Ohms minimum
Footprint: 15" x 24" x 59" H
Weight: 375lbs.

The EggelstonWorks Ivy Signature is a Reference speaker whose development was truly based on being just that: a reference. Developed with legendary mastering engineer, Bob Ludwig, the Ivy continues to be the reference in main room at Gateway Mastering Studio.

As it turns out, mastering engineers want the same things out of their system as any other music lover. The most important aspects of a speaker to an engineer are accuracy and musicality. Accuracy is obviously important to an engineer, but also to anyone interested in a truthful portrayal of music. Musicality is a little more elusive in many designs, but at EgglestonWorks this means the speakers are easy to listen to and are not fatiguing in any way. For engineers, this is important as they sit in front of their speaker for many hours each day.

The Ivy Signature is impressive to behold. On the baffle, there are eight (8) drive units visible, but there is more. Behind each of the 6" midrange drivers is two more drivers mounted in isobaric configuration. Similarly, behind each of the 12" woofers is another 12" driver. The result of this unusual use of isobaric loading is a speaker that reproduces music in an effortless and completely truthful manner that has an almost spooky realism.

Whether you are a professional engineer or just a music lover, the Ivy Signature takes the EgglestonWorks philosophy of accuracy and musicality to a level that all will appreciate.

SPECIFICATIONS
Frequency response is from -4dB @ 13 Hz to well beyond 24,000 Hz.
Efficiency is 88dB.
Impedance is 7 Ohms, nominal.
Minimum impedance is 5 Ohms.
Tweeter: 1″ cloth dome.
Mid-bass: Twelve 6″ double-magnet driver, with a 3″ voice coil diameter.
Bass: Six 12" woofers loaded in parallel chambers in pressure driven configuration.

Dimensions:

15" wide on the baffle, 18" wide on the back panel. It is 36" deep, and 76" tall

Weight: 790 pounds each

Contact Larry at The Palace 786 388-8050 for more information on the right Eggleston Works for your application that it's definably time to trade in your old speakers. EGGLESTON WORKS website.

Contact High-End Palace for your EgglestonWorks Loudspeakers!

DEMOS AVAILABLE!

Acoustic Zen Crescendo Mk II
New at High-End Palace the whole Acoustic Zen loudspeakers. Here are showing the new Crescendo Mk II, a three-way full range loudspeaker built on the same component, cabling and cabinet quality of the Adagios. It incorporates two 5 inch midrange drivers, two 8" woofers and one horn-loaded ribbon tweeter all in a transmission line design. Like the Adagios, the upper half of the Crescendo is a D'Apolito MTM configuration, featuring two 5 inch midrange "underhung" voice coil ceramic-coated drivers around a 2 inch horn-loaded ribbon tweeter. In addition, the bottom of the Crescendo tower features two 8 inch "underhung" voice coil ceramic-coated woofers.

The Crescendo Mark II features drivers with larger magnet assemblies for even higher linearity and heavier and reinforced cabinets for even lower resonance and overall lower distortion. The resulting sound is remarkably clear, full, accurate and lifelike. Following the success of the Adagio and Adagio Junior loudspeakers, Acoustic Zen Technologies set forth to create another ground-breaking loudspeaker design based on our no compromise philosophy.
Contact High-End Palace for Acoustic Zen Loudspeakers!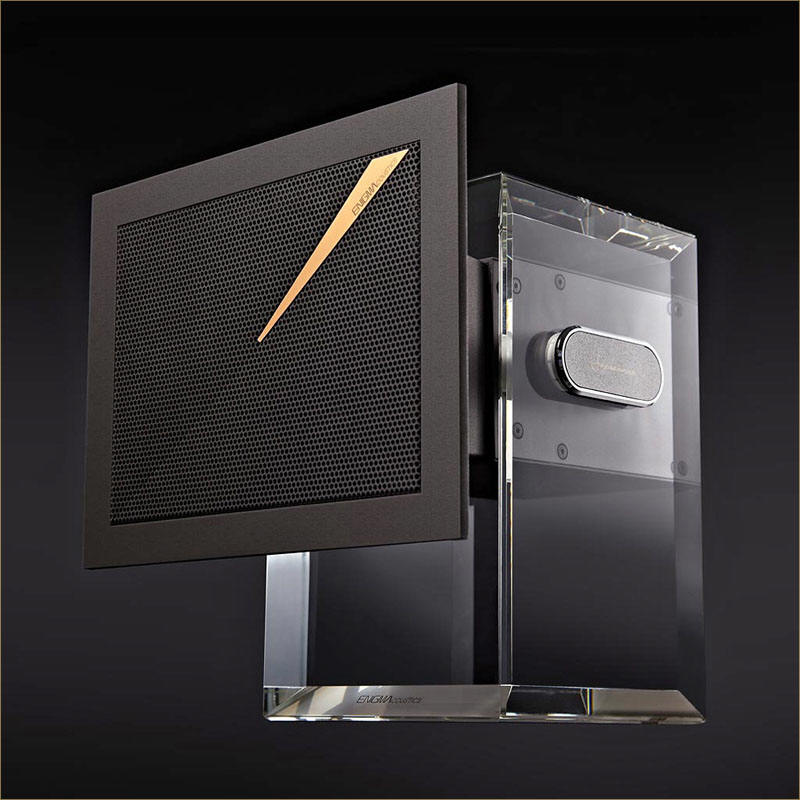 ENIGMACOUSTICS SOPRANINO SUPER TWEETERS
Improve your sound by adding a pair of Sopranino Super Tweeters to your high-end system. The job of a super tweeter is simply to add finesse, air, to open the ambience in recordings, to provide effortless top end extension to the music system like price no project loudspeaker systems

. Call us and we we tell you our experience with the

Sopranino Super Tweeters.

Link to the website: enigmacoustics.com.
Description: Horn-loaded, self-energized electrostatic supertweeter.

Drive-unit: 3.5" (90mm) by 4.75" (120mm), permanently charged PTFE diaphragm.

Crossover frequency (selectable): 8kHz, 10kHz, 12kHz. High-pass crossover slope: 12dB/octave.

Frequency response: 8–40kHz, ±3dB.

Sensitivity: 90dB/2.83V/m or 87dB/2.83V/m (switch selectable).

Nominal impedance: 4 ohms.

Power handling: 50W.

Dimensions: 7.13" (181mm) W by 7.60" (193mm) H by 8.15" (207mm) D.

Weight: 6 lbs (2.7kg) net each; 27 lbs (12.3 kg) shipping/pair.

Height-adjustable stands:

Available
Contact High-End Palace for Sopranino's Super Tweeters!
Looking for the best condition pre-owned reference loudspeakers for your high-end system? E-mail us or call us today that we sell the best certified trade-ins, demos and in the business. Call us even if you don't see what you are looking for that most likely we have it. Contact High-End Palace 786 388-8050.
Raidho Acoustics D 5.1
Mint conditions set of Raidho Acoustics D-5.1 in Walnut burl. The Raidho Acoustics D-5.1 is a true 3-way Raidho Diamond Driver loudspeaker. It has two dedicated 115 mm Diamond mid-range and four 8" Diamond bass drivers. The two mid-range drivers allow for unprecedented dynamic headroom lowers compression and vanishing low distortion figures. The four 8" bass drivers have grip, slam and extend deeper than the music on the recording itself.

When you emerge yourself in the physical presence of the D-5 something magical happens: It simply reveals the inner substance of your music with a realism and naturalness that will leave you breathless. The D-5.1 is a truly unique musical performer and is for those, who really enjoy spending time and effort setting up their system and finding superb matching components, the closest you will ever get to bring "in real life" music experiences into your listening room. True world-class loudspeaker system!
Contact High-End Palace for these Raihdo D 5.1 Loudspeakers!
Actual pictures of the KRELL Master Reference Subwoofer for sale.
KRELL MASTER REFERENCE SUBWOOFER
I am selling these MRS for one of my best friends. I will personally ship this sub anywhere in the world in less than a week. Well kept units! I have the remote. Will ship in the factory pallet! 500 pounds plus shipment. We will ship for FREE within 1000 miles from us. Come by that I promise you that you will never be in better hands. There are two MRS available! One just serviced with KRELL.

This beautiful beast has two specially designed 15-inch woofers, each capable of an astounding 3-inch cone excursion; feature high-tech rubber surrounds and massive motors. Mounting the drivers opposite one another and in phase is a unique arrangement that cancels driver borne resonances while promoting efficiency.

At the core of the Master Reference Subwoofer sits a massive, 2600 W Krell amplifier. Equipped with an 8000 VA power supply and a regulated output stage, this purpose-built behemoth drives the Master Reference Subwoofer to summon hurricane-like air movement and extraordinary acoustic output. It is capable of a staggering 120 dB sound pressure level output at 20 Hz. An advanced comparator circuit for input-synchronous driver control eliminates the performance limitations of conventional negative feedback servo systems.

Supporting such prodigious bass output is a massive chassis constructed of 1-inch-thick aluminum with 2-inch-thick speaker baffles. Weighing over 400 pounds, this ultra-rigid cabinet ensures the purest low-frequency reproduction, totally free of typical coloration problems caused by resonance and vibration. The chassis features a high-precision diamond-cut finish, which preserves the natural beauty of the aluminum while providing a distinctive appearance that blends elegantly with interior decor.
Contact High-End Palace for pricing!

ASCENDO

The 3 way German Ascendo System M-S and System M-F2 are absolute state of the art instruments, they have impedance adjustment for the damping factor to match your power amp, custom made drivers, crossover, ribbon-tweeter with unique adjustable time alignment. Link to Ascendo's website, reviews and references: SOUNDSTAGE and 6MOONS.
Sonus Faber Concerto Grand Piano
Just in a stunning set of Sonus faber Grand Piano in mint conditions. Description: Two-way, floorstanding loudspeaker: Drive-units: ¾" silk-dome tweeter, 7" acrylic-treated paper-cone woofer, 7" acrylate/"carbonium"-cone passive radiator. Includes the massive adjustable spikes not shown. Crossover Frequency: 2.3kHz. Frequency response: 40Hz-20kHz, ±3dB. Impedance: 8 ohms nominal. Sensitivity: 87dB/1W/1m. Power requirements: 30-200W. Dimensions: 39½" H by 9½" W by 11½" D. Weight: 60 lbs each.
KHARMA GRAND EXQUISITE SPEAKERS SYSTEM
The Kharma Grand Exquisite is regarded as one the best speaker system available in high-end audio with the full wood option as shown in new conditions. The grand Exquisite materializes the absolute end of the high-end in audio, using reality as a reference. This d'appolito loudspeaker embodies two 30 mm and one 20 mm Kharma/Thiel diamond tweeters, two ceramic midrange-units and two Nomex-Kevlar subwoofer units placed in a huge multilayer wooden cabinet.

The diamond tweeters have a underhung-system, thereby guiding all the energy straight to the cone and reducing the energy-loss by warmth to a absolute minimum. The latest Kharma technologies have been applied to achieve a perfect acoustic picture using pure silver-gold wiring and materials like High Pressure Laminate and aluminum. The resistors used in the Grand Exquisite are a development of Kharma and represent the ultimate in freedom from any graininess with negligible induction. All Exquisites use the recently developed Kharma Connectors, guaranteeing a negligible loss of information. For more information contact Larry at High-End Palace 786 388-8050.
Contact High-End Palace for pricing!
HD PHOTOGRAPHY WORK BY LARRY DIAZ FOR HIGH-END PALACE
Sonus faber Electa Amator II
Just in a mint condition premium set Sonus faber Electa Amator II speakers in solid Walnut. Beautiful 2 Way that looks as good as it sounds. We have the manual, original box and packing materials. Absolute mint conditions, like new! Actual photo the the Sonus faber Electa Amator II for sale.
GENESIS 1.2
Four tower set of Genesis 1.2 in rosewood with servo amplifiers with original crates. Will ship directly from West Palm Beach, Florida. Will ship and set up any where in the world.
PHOTOGRAPHY WORK SHOT IN HIGH-RESOLUTION BY LARRY DIAZ FOR HIGH-END PALACE
MEADOWLARK NIGHTHAWKS
Just in a mint condition set of Meadowlark Nighthawks speakers in maple. Beautiful 3 Way tall speakers in solid maple that sounds amazing, superb highs, mids and the bass, incredible my audiophile friends. These speakers are front ported and the binding post in the back are bi-wire, they come with CARDAS jumpers and spikes. These speakers come in a superb crate made for them, they are heavy, about 340 pounds crated. Absolute mint conditions, like new!
PHOTOGRAPHY WORK SHOT IN HIGH-RESOLUTION BY LARRY D. DIAZ FOR HIGH-END PALACE
DYNAUDIO CONFIDENCE C2
Beautiful set of C2's in mint condition trade-in in rosewood with wooden crates. An ideal sonic architecture is defined by realizing the precise balance between highly complex technology and homogenous sound reproduction. The sound-relevant details and brilliant fine-tuning of the Confidence C2 deliver a perfect sonic balance: a spacious soundstage with absolute accuracy and clarity, with the effortless performance of a completely balanced system.
Wilson Audio Sophia
We have a mint set of Wilson Audio Sophia's with the complete hardware set, Wilson's leather book owner's manual and crates. This pair of Sophia's are in true mint condition like everything we sale. New conditions! An absolutely stunning set of reference speakers with Wilson's legendary craftsmanship. High-End Palace is not a Wilson Audio dealer and do not have any affiliation with Wilson Audio. Wilson Audio does not provide warranty for any of their speaker systems unless you buy them from an authorize dealer.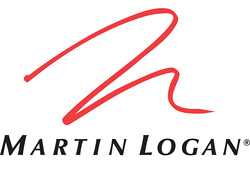 MARTIN LOGAN STATEMENT E2
Excellent condition set of Martin Logan Statement E2 available for pick up in Golden Beach, Florida. PASS LABS mono-blocks also available. New custom crates can be ordered for $2000 for shipping worldwide.

Frequency Response

150–20,000 Hz, +1/2 / -1dB
18–22,000 Hz ±2dB

Horizontal Dispersion

30°

Vertical Dispersion

70" (177.8cm) line source

High Frequency Transducer

70" (177.8cm) CLS™ electrostatic transducer

Amplifier

Eight proprietary 7" (17.7cm) paper cone drivers per dipolar tower, 60–200 Hz, passive crossover. Eight proprietary 12" (30.4cm) paper cone drivers per sub-bass tower in a BalancedForce™ array.

Sensitivity

91 dB/2.83 volts/meter

Impedance

5 Ohms, 1.5 at 20kHz. Compatible with 4, 6, or 8 Ohm rated amplifiers.

Recommended Amplifier Power

20‒1200 watts per channel

Crossover Frequency

55, 220 Hz

Audio Controls

Bass Control: via EXOS external crossover

Inputs

Custom bi-wire stainless steel binding posts

Compatible Products

Exos Acticve Crossover, Custom 3/8 - 16 ETC™ (Energy Transfer Coupler) spikes

Weight

900 lbs. (408.6 kg)

Dimensions (dipolar towers)

82" × 36" × 28"
(208cm × 91cm × 71cm)

Dimensions (sub-bass towers)

63" × 15" × 23"
(160cm × 38cm × 58cm)
DALI MEGALINES III
The MEGALINE III in excellent conditions with original crate and manuals. Four Pass Labs XA-160 pure CLASS A monoblocks are also available and a stunning 2 way Pass Labs XVR-1 Crossover. The MEGALINE parts from decades of design conformity. The two speakers are a seamless integration of form and function, an unapologetically monumental display which emphasizes the MEGALINE's innovative modular construction. These reference loudspeakers are capable of reproducing the full dynamics and scale of the live music experience, revealing the subtleties of inner detail, contrast, atmosphere, pace and rhythm, all the essential elements which make recorded music come alive.

The result of a radical re-evaluation of the traditional approach to loudspeaker design. Wiping the slate clean DALI's research and development engineers questioned conventional wisdom and broke new ground on the road to a better understanding of the crucial interaction between loudspeaker, room and listener. Essentially, the MEGALINE is a two-way loudspeaker, based on a vertical array of bass/midrange units alongside a second array of planar dipole ribbon tweeters. Each array is configured to operate as a single "virtual driver" extending from floor to ceiling. We chose to use a stacked modular design based on three identical modules per channel for critical listening with a total of 24 custom made woofer/midrange, 6 DALI-developed ribbon tweeters, outboard active crossover network, an enclosure that is monumental in appearance and a sound that's a total new experience for any audiophile.
JM Lab Grande Utopia BE
The Grande Utopia BE is the ultimate speaker from JM Lab. Featuring 15 inch and 11 inch W cone woofers, two 6.5 inch W cone midrange drivers and a Beryllium tweeter and weighing a massive 210kg this 4-way Floor Stander is the ultimate in expert technology and sound. Regarded as one of the best speaker system in the world. Mint set!

Contact The Palace for Grande Utopia!
Raidho Acoustics D 2.1
Mint condition set of Raidho Acoustics D-2.1. This floor standing loudspeaker has two Raidho Diamond Drivers and one Raidho Ribbon Tweeter. With extra bass extension and greater dynamic headroom, the D-2.1 is a true musical performer. The D-2.1 is a loudspeaker for music enthusiasts who enjoy working with their music system. The D-2.1 will reward you with spectacular musical moments in the company of your favorite music.
B&W 803D Diamond Series
Type: Three-way tower
Tweeter: 1" Diamond Dome
Midrange: 6" Kevlar
Woofers: 7" (3), Rohacell
Nominal Impedance (ohms): 8
Recommended Amp: 50–500 watts
Finishe: Light Cherry
Dimensions:

(H x W x D, inches) 45.8 x 12 x 18
Shipping Weight: 230 pounds
Price: $9000/pair

Statement from a review!

The B&W 803D provides world-class sound. Right out of the gate, with two-channel music the 803Ds grabbed me with a deep, wide soundstage and excellent imaging. Vocals that were recorded to be in the dead center were reproduced in the dead center. If they were meant to be off to one side or the other, they were. Guitars, drums, harmonicas, banjos—you name it, and the 803Ds will place it right where the musicians and, ultimately, the engineers intended it to be placed.

One of the most impressive displays of staging was with "Katy Hill" from the CD The Three Pickers, a track that captures some 25 instruments on stage at the same time, including multiple guitars, fiddles, and banjos. Having seen the DVD rendition of this concert many times, I know exactly where everyone is supposed to be, and that's right where they were when I listened to the CD through the 803Ds. The speakers also did a fantastic job of separating each individual fiddle, guitar, or banjo, even if they were playing the same part.

I suspect many of you want to know if the diamond tweeter lives up to its hype in the listening room. It does, indeed. Anyone concerned about diamond's potential for considerable mass will find no evidence of it here. This tweeter is as agile and pure-sounding as any I've ever heard, no matter what material I gave it. Cymbals were crisp and clean, with no sibilance or overhang. Benny Goodman's clarinet was as natural as the recording would allow it to be. And Little Walter's harmonica had an attack and immediacy that can only have been just short of hearing it live. The B&W system saved its most impressive musical output for high-resolution material, though. It was here that, with properly engineered material, the speakers absolutely disappeared, and all that was left was music in a natural and effortless state. I could ramble on about how impressively the system reproduced each individual frequency range, but the ultimate goal of each speaker is to operate as its own subsystem, reproducing the entire spectrum (or at least as much of it as it's designed to) successfully and without holes.

PHOTOGRAPHY WORK SHOT BY LARRY D. DIAZ FOR HIGH-END PALACE
Von Schweikert VR-10 Mk II's
Nice set of four towers Von Schweikert VR-10 Mk II in piano black gloss. One owner set! Located at the house of a good audiophile friend of mine in Wellington, Florida. Will crate and ship to your door anywhere in the world. Contact Larry at High-End Palace 786 388-8050 for details.
PHOTOGRAPHY WORK SHOT IN HIGH-RESOLUTION BY LARRY D. DIAZ FOR HIGH-END PALACE
GENESIS 501
Beautiful set of Genesis 501 in rosewood with original crates. One owner set! Well taken cared of in a dedicated listening room.
JM LAB UTOPIA
We have a pair Utopia's in Tauari cherry in mint condition, one owner set with box, manuals, spikes etc. Reference 3-way bass reflex floor standing speaker system in the stunning piano black lacquer and solid Tauari cherry cabinet with 1 x 13" W-type cone woofer for bass (3" voice coil, 12 x 2-7/8" magnets), 2 x 6-1/2" midrange (W-type cone with 1-1/2" flat wire coil phase plug, 4" magnet), 1 x Tioxid inverted dome tweeter, (3/4" coil, 2" Neodynium magnet, Telar 57 polar piece structure), 93.5dB efficiency ( easy to drive, amplifiers with power as low as 50 watts will drive them).
Contact The Palace for the Utopia!
PHOTOGRAPHY WORK SHOT IN HIGH-RESOLUTION BY LARRY D. DIAZ FOR HIGH-END PALACE
Sonus faber Extrema
Absolute mint set of Sonus Faber Extrema's speakers in conditions that you won't believe, through the years we have sold a few sets of Extrema's but we have never seen a pair in these conditions. See for your self in the high-resolution photos above. The classic Extrema's are considered as one of the best monitors ever made in the history of high-end audio, they are one of our favorite loudspeakers from my friend Franco's designs.

One of the things that we like about these Extrema's is the pride and work that went into making these speakers. About the sound we can tell you that they sound superb, and that they are one of the very few monitors ever made that can handle high SPL's without minimal compression. We recommend high powered/current amplifiers for these Extrema's, they sound best with 300 to 1000 w/p/c reference solid-state amplifiers. If possible match it up with an PASS LABS active crossover cut 50hz/12db for the monitors and 50hz/18db for a the passive reference subs.

Warm regards my audiophile friends,

President (CEO)

High-End Palace, LLC

The place for the world's best music systems!

Tel: 786 388-8050

OPEN EVERY DAY FROM 10:00 AM TO 8:00 PM
CONTACT US TODAY FOR AN APPOINTMENT!
4000 PONCE DE LEON BLVD. SUITE 470
CORAL GABLES, FLORIDA 33146. USA
TEL: (786) 388-8050
BACK HOME TO THE PALACE HOME PAGE